WIN THIS QUEENSLAND ADVENTURE!
1ST PRIZE:
2 Day 2 Night Ride To Paradise Adventure for 2 People
in the Whitsundays valued at $1,400 (AUD)
RUNNER UP PRIZES:
2 x 1 Day Thundercat Whitsundays Tours
Valued at $189 (AUD) per ticket.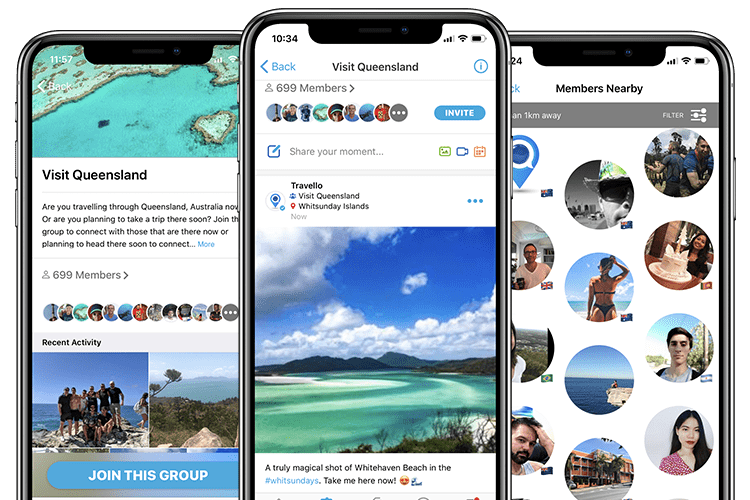 Install Travello
Join the Explore Queensland Group
Post your favourite Queensland photo or video to the feed in the group with the hashtag #WinWhitsundaysTravello and in 50 words or less tell us why everyone should holiday here in Queensland this year. If not your own content please correctly credit your source on your post.
Extra Brownie Points (not required for actual entry though): Post the same thing to your own socials and tag @travelloapp in with #WinWhitsundaysTravello and #holidayherethisyear
Verify your profile today to also receive $15AUD in Travello Rewards Points plus use "TravelloQLD" to get 10% of Travello Experiences!
Available for FREE on
iOS & Android
BOOK YOUR QUEENSLAND EXPERIENCES & ADVENTURES ON TRAVELLO!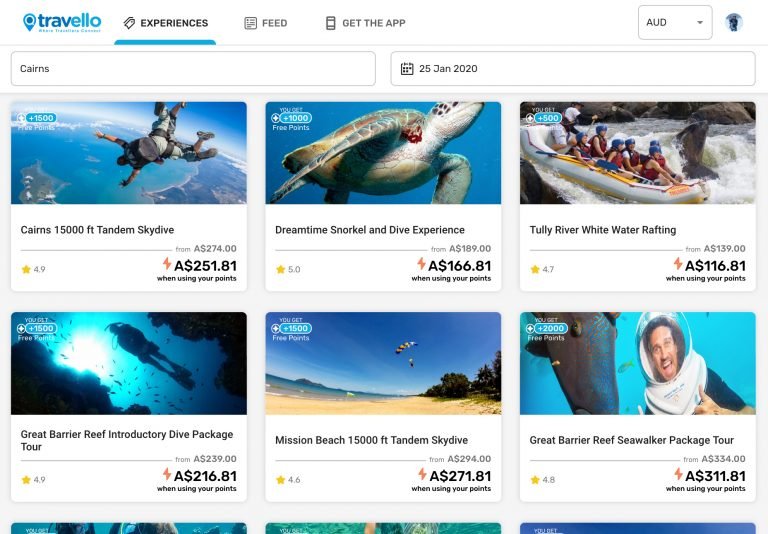 EXPLORE QUEENSLAND COMPETITION TERMS & CONDITIONS
NO PURCHASE IS NECESSARY TO ENTER OR WIN.
Promoter/Sponsor:
The Promotor of the Explore Queensland Competition is Travello App Pty Ltd, 2/88 Brunswick Street, Fortitude Valley, 4007, Queensland, Australia. Other media platforms such as Facebook, Instagram & Twitter are not associated with this competition at all. Prize partners associated with this competition are also not affiliated with the running of the competition or any associated entry details or data collection, they are just prize partners. 
Eligibility:
The Travello Explore Queensland competition is open to legal residents of any country over the age of 18 but is void where prohibited by law.
Employees of Travello App & our respective deal partners, prize partners , subsidiaries, advertising and promotion agencies, suppliers and their immediate family members and/or those living in the same household of each are not eligible to participate in the competition.
The Competition is subject to all applicable federal, state and local laws and regulations. Void where prohibited
Agreement to Rules:
By participating, you agree to be fully unconditionally bound by these rules, and you represent and warrant that you meet the eligibility requirements set forth herein. In addition, you agree to accept the decisions of Travello App as final and binding as it relates to the content & decisions. The Competition is subject to all applicable federal, state and local laws.
Competition Period:
Entries will be accepted online starting on 12th February 2020. There will be month prize draws though with month start and end dates for each draw. These draws are as follows:
Feb Draw:
Opens 9am AEST 12th February, entries close 5pm AEST 23rd March. Drawn 25th March.
March Draw: 
Opens 9am AEST TBA, entries close 5pm AEST TBA. Drawn TBA.
April Draw: 
Opens 9am AEST TBA, entries close 5pm AEST TBA. Drawn TBA.
May Draw: 
Opens 9am AEST TBA, entries close 5pm AEST TBA. Drawn TBA.
June Draw: 
Opens 9am AEST TBA, entries close 5pm AEST TBA. Drawn TBA.
July Draw: 
Opens 9am AEST TBA, entries close 5pm AEST TBA. Drawn TBA.
How to Enter The Monthly Draws:
This prize draw is a GAME OF SKILL. The eventual Monthly winner will be chosen based on their response to the Monthly draw's requirements, as per below.
1/ The entrant needs to ensure they have Travello Profile in the app.
2/ The entrant needs to then Join the Explore Queensland Group in the app. This Group can be found in the "Explore" tab & then "Groups".
3/ The entrant then needs to complete the requested post with the required hashtags and 50 words or less to the entry question, as per outlined on the website and in the group for the specific Monthly draw. Each Month's draw will require a slightly different hashtag and request, so the entrant needs to check each month's requirements for the entry on this competition page above in the How To Enter section. 
The Monthly Prizes:
The Monthly prizes will be updated towards the end of the current Month's entry period, outlining the next months prize details and instructions. These will be always updated on this website along with being communicated in the Travello App and across our socials. 
These Terms & Conditions will also be updated with the details of those monthly prize details. The prize details will be as follows (as they are released):
February Entry:
1st Prize:
1 Ticket for two people onboard the Red Cat Adventures Ride To Paradise Tour in the Whitsundays, Queensland, which is for 2 Days/2 Nights, staying in their Sunrise Room. Valued at $700AUD per person. More details about the tour can be found here – https://redcatadventures.com.au/package/ride-to-paradise-2-dn/
2nd & 3rd Prize:
1 Adult x 1 Day Red Cat Adventures Thundercat Whitsundays Tour. Valued at $190AUD per person. 
https://redcatadventures.com.au/package/thundercat/
Total February Prize Pool Value = $,1780 AUD
March Entry:
1st Prize: 
TBC
2nd & 3rd Prize:
TBC 
Total March Prize Pool Value = TBC
April Entry:
1st Prize: 
TBC
2nd & 3rd Prize:
TBC 
Total April Prize Pool Value = TBC
May Entry:
1st Prize: 
TBC
2nd & 3rd Prize:
TBC 
Total May Prize Pool Value = TBC
June Entry:
1st Prize: 
TBC
2nd & 3rd Prize:
TBC 
Total June Prize Pool Value = TBC
July Entry:
1st Prize: 
TBC
2nd & 3rd Prize:
TBC 
Total July Prize Pool Value = TBC
August Entry:
1st Prize: 
TBC
2nd & 3rd Prize:
TBC 
Total August Prize Pool Value = TBC
The prizes are not transferable to anyone else or redeemable/exchanged for cash
Any and all prize-related expenses, including without limitation any and all federal, state, and/or local taxes shall be the sole responsibility of the winner. 
Unless specified in the booked experience, Flights and additional Accommodation is not included in the prize. There is also no additional spending money included in the prize and travel insurance is not included and must be taken out at the winner's expense, other than what is stipulated as part of the prize details.
All standard terms & conditions of any of the prize partners experiences or offers must be understand by the eventual winner and Travello holds no responsibility for the winner being aware of the details terms & conditions they may have, although we of course will do our best to ensure the winners are informed at the time of winning to ensure they are aware that other terms & conditions may apply. 
Travello is not responsible for passports, visas or waivers. 
How The Prizes Will Be Drawn:
The Monthly prize winners will be required to submit their post as instructed for that Month's draw on this competition details page or in the app and across Travello's socials. The Travello team will draw the eventual Monthly winner from the list of posts in the app based on the image correct answers for the daily post they entered. These may consist of a request of 50 words or less along with the image/video & hashtags.
Contacting The Winners:
Final winners will be notified via email or SMS or Chat or within Travello App, any means previously submitted relating to their entry. This will take place within five (5) days following the winner selection. The Daily winners will be contacted via the means of their entry (Facebook, Instagram or Travello App). 
Travello App shall have no liability for a winner's failure to receive notices due to winners' spam, junk e-mail or other security settings or for winners' provision of incorrect or otherwise non-functioning contact information. If the selected winner cannot be contacted again, is ineligible, fails to claim the prize within 10 business days from the time award notification was sent, then prize may be forfeited and an alternate winner selected.
Conditions of Competition Entry & Acceptance Of The Prize With Rights Granted By You
By entering this competition with your photo or video content, plus if you are the eventual winner, you understand that Travello will have the right, where permitted by law, without any further notice, review or consent to print, publish, broadcast, distribute, and use, worldwide in any media now known or hereafter in perpetuity and throughout the World, your entry, including, without limitation, the entry and winner's portrait, picture, voice, likeness, image or statements about the Competition for trade, advertising, social posting or public relations and promotional purposes without any further compensation.
The receipt by winner of the prize offered in this Competition is conditioned upon compliance with any and all federal and state laws and regulations.
If posting content that is not of your own material, the entry must also credit the original source of that material clearly in their post.
Terms:
Travello App reserves the right, in its sole discretion to cancel, terminate, modify or suspend the Competition should (in its sole discretion) a virus, bugs, non-authorized human intervention, financial issues, fraud or other causes beyond its control corrupt or affect the administration, security, fairness or proper conduct of the Competition. In such a case, Travello may select the recipients from all eligible entries received prior to and/or after (if appropriate) the action taken by Travello. Travello reserves the right at its sole discretion to disqualify any individual who tampers or attempts to tamper with the entry process or the operation of the Competition or website or violates these Terms & Conditions.
Travello App has the right, in its sole discretion, to maintain the integrity of the Competition, including, but not limited to unscrupulous voting tactics that are in excess of that allowed by Competition rules; or the use of bots, macros or scripts or other technical means for entering.
Any attempt by an entrant to deliberately damage any web site or undermine the legitimate operation of the Competition may be a violation of criminal and civil laws and should such an attempt be made, Travello reserves the right to seek damages from any such person to the fullest extent permitted by law.
Limitation of Liability:
By entering you agree to release and hold harmless Travello App and its subsidiaries, prize partners, affiliates, advertising and promotion agencies, partners, representatives, agents, successors, assigns, employees, officers and directors from any liability, illness, injury, death, loss, litigation, claim or damage that may occur, directly or indirectly, whether caused by negligence or not, from (i) such entrant's participation in the Competition and/or his/her acceptance, possession, use, or misuse of any prize or any portion thereof, (ii) technical failures of any kind, including but not limited to the malfunctioning of any computer, cable, network, hardware or software; (iii) the unavailability or inaccessibility of any transmissions or telephone or Internet service; (iv) unauthorized human intervention in any part of the entry process or the Promotion; (v) electronic or human error which may occur in the administration of the Promotion or the processing of entries. All entrants
Disputes:
This competition is governed by the laws of Australia without respect to conflict of law doctrines. As a condition of participating in this Competition, participant agrees that any and all disputes which cannot be resolved between the parties, and causes of action arising out of or connected with this Competition, shall be resolved individually, without resort to any form of class action, exclusively before a court located in Queensland, Australia having jurisdiction. Further, in any such dispute, under no circumstances will participant be permitted to obtain awards for, and hereby waives all rights to claim punitive, incidental, or consequential damages, including reasonable attorneys' fees, other than participant's actual out-of-pocket expenses (i.e. costs associated with entering this Competition), and participant further waives all rights to have damages multiplied or increased.
Privacy Policy:
Information submitted with an entry is subject to the Privacy Policy stated on the Travello Web Site (also on entry form). To read the Privacy Policy, click here.
Please note that the entry form is powered by EasyPromo, please refer to their Privacy Policy and also their Terms & Conditions too for full disclosure of their policies.
Also be aware that all data collected for the Travello 12 Days of Christmas Giveaway will not be shared with any third parties or partners outside of Travello.
PLEASE CHECK IN ON THIS PAGE TO GET UPDATES OF PRIZE DETAILS AND OPENING AND CLOSING TIMES FOR THE MONTHLY ENTRIES 
Last Updated March 9th 2020.
– March 9th Update: Prize 1 entry period extended to 23rd March.