With more than 600.000 users worldwide, in more than 180 countries, Travello is the largest community of travellers in the world, on app. But even with a large number of users, we at Travello still aim to create a close community of travellers and will every week publish a short interview with one of our avid travellers! 
This week we are getting to know Crystal from the Philippines, but you might also know her as "MrsGunaydin" from the Travello app. 

Hi Crystal! Can you please tell us a little bit about yourself?
Hi. My real name is Crystal and I am from Manila. I love to be called Mrs. Gunaydin, my Turkish husband's surname.  I'm a very spontaneous person. I don't follow norms, I'm friendly and funny, but learning different languages is my weakness. I started exploring when I was still working back home around 2001-2005. I only traveled in neighboring countries as per my budget, and then in 2006 I moved to Dubai and from there I started going to Europe and other places. Through traveling I met the man whom I got married to twice in the same year and who is the father of my beautiful baby girl.
What is your favourite travel destination and why?
I love Dahab and Nuweiba in Egypt. Maybe you will wonder why, with all the dangers of going there. I love the serenity of the place. Specifically Mount Sinai and the colorful canyons. It gave me goosebumps when I saw the tree, the burning bush, right in front of my eye. Imagining that God talked to Moses there and gave us his commandments. Just by telling this story, I still feel great and spiritually uplifted.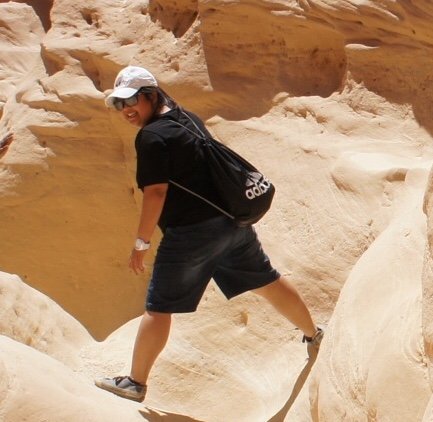 What do you always bring with you when you travel?
I love to wear black t-shirts, denim shorts or pants, and a white Adidas cap. I hate heavy SLR's and Drones.
Why do you like to use Travello?
Finally, I found an app where the travelers are posting their actual activities. As a solo traveler, I always use guides and this could be a great help for my future travels. Also, I always wanted to create travel blogs just to share my adventures, but I am pretty much occupied with my family and work. I wanna share my travel experiences and I want to give tips. I want to practice my writing and I want to meet more travelers like you.
Where do you plan on travelling to next?
That is a good question. We never stop traveling, whether for personal time or leisure. The last time I really traveled for fun was when I was 6-months pregnant. Since the baby arrived, because my husband is Turkish and I am Filipina, we have traveled half of the globe just to see our families. I want to wait until my baby is ready to appreciate things around her.
Follow Crystal on the Travello app here!