TOM & NATALIE'S ULTIMATE AUSSIE ADVENTURE
WEEK 5: NEW SOUTH WALES
Follow Tom & Natalie's Adventure across Travello and our Instagram Stories
Overview map of where and what Tom & Natalie got up to this week!
STAYS
Jucy Van, Byron Bay YHA, Spot X Surf Camp, Newcastle YHA, Sydney Railway Square YHA
ACTIVITIES
Skydiving, Surf Camp, Kayak, Wine Tasting, Bridge Climb
LOCATIONS
Byron Bay, Coffs Harbour, Newcastle, Hunter & Sydney
Week 5 – New South Wales
After 4 weeks of exploring and traveling through the state of Queensland, Natalie and Tom crossed the border in their Jucy camper-van to New South Wales. The first stop was Byron Bay, which is only an hour drive from Gold Coast and the state border, before they ventured down the coast and stopped by Coffs Harbour, Newcastle, Hunter Valley and then finally arrived in Sydney. This would be Natalie and Tom's last week together, as Tom would finish the trip in Sydney. Read on to find out what they got up to on their last week together…
Byron Bay
[Best_Wordpress_Gallery id="40″ gal_title="Byron Bay"]
Natalie and Tom arrived in Byron Bay which is a popular place for surfers and even some Hollywood stars. They checked into YHA Byron Bay, which is located in the heart of the town and only a hundred meters from the beach. The town has a main street that is full of clothing and surf shops, and charming cafes and restaurants. The first activity on Natalie and Tom's itinerary was quite an adventurous one – skydiving! Natalie had to overcome her fear of heights, but they both jumped off the plane and experienced the amazing thrill of soaring over Byron Bay with Skydive Australia. What an incredible way to see the town and coast from a different perspective! The next morning, Natalie and Tom joined a tour with Cape Byron Kayaks, who took them out to see the dolphins from the kayak. Not a bad way to start the day!
Coffs Harbour & Surf Camp
[Best_Wordpress_Gallery id="43″ gal_title="Coffs Harbour & Surf Camp"]
After 2 days in Byron Bay it was time to continue on south to Coffs Harbour. The city of Coffs Harbour is a popular stop for those who travel between Gold Coast and Sydney, and was once the hub of a flourishing banana industry. In fact, one of the city's popular attractions is the World's Largest Banana, and the wider region of the city is known as the "Bananacoast"! For Natalie and Tom it was time to really hone those surfing skills, and
Mojosurf
set them up for a 2 day surf school at their
Spot X Surf Camp.
The camp itself is located in a National Marine Park, in Arrawara, and from their cabin Natalie and Tom had some incredible views to the ocean. The surf camp is actually the only one in Australia with direct beach access! They were provided with wet suits and surfboard, and over 2 days they were taught how to surf by professional instructors. The experience is great for anyone wanting to learn how to surf in a fun and social environment.
Newcastle & Hunter Valley
[Best_Wordpress_Gallery id="45″ gal_title="Newcastle & Hunter Valley"]
Newcastle was next on Natalie and Tom's itinerary, a 4-hours drive from Coffs Harbour, which is the second largest city in New South Wales. They checked into the Newcastle Beach YHA, which is located in the center of town and opposite of Newcastle Beach. Newcastle is known for its coal industry and is the largest coal exporting harbour in the world. Natalie and Tom checked out the amazing sand dunes in the Worimi Conservation Lands before relaxing and enjoying some time off in Newcastle. The next day, they explored the Hunter Valley region, which is renowned for its wineries, and they made a stop to try some of the local wines.
Sydney
[Best_Wordpress_Gallery id="47″ gal_title="Sydney"]
Sydney needs little introduction, but nevertheless we will add some; Sydney is the most populous city with more than 5 million people. It is also where Tom calls home, so he was the perfect tour guide for Natalie when they arrived the city, after driving down from Hunter Valley. They checked into the funky Sydney Railway Square YHA, where you have the option of staying in the main building or in an actual railway carriage. The hostel is located centrally, right next to the Central Station, and within walking distance to many popular attractions. Natalie's fear of heights was once again put to the test, as they started their Sydney adventures with the very popular Sydney Bridge Climb, on the famous Sydney Harbour Bridge. After enjoying the some amazing views from the bridge, Tom showed Natalie the popular sights in Sydney, like Bondi Beach, the Opera house and Darling Harbour, to mention some. For their last evening together, they bought some cheese and wine that they enjoyed on Lady Macquarie's Chair, which is a bench made out of sandstone and with amazing views to the Sydney Harbour. What a perfect way to end a 5-week trip together!
Time to say goodbye…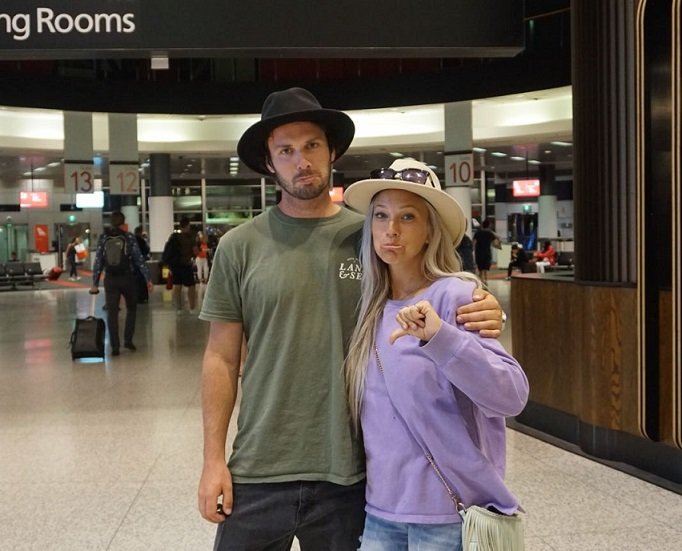 They started off this incredible journey as two complete strangers, but quickly became good friends and travel mates. The Travello team was very excited to follow their journey, and was happy to see how good friends they became. It was tough to say goodbye as Tom dropped Natalie off at the airport for her flight to Adelaide. Natalie cried, the Travello team cried, and we're sure that Tom cried a little bit too. Even though Tom's journey ended in Sydney, Natalie did not continue the Ultimate Oz trip alone and she was joined by Ultimate Oz finalist, Sandrine Hecq. Read on in our next blog post to find out more about Sandrine and their trip from Adelaide to Uluru.
Stay tuned on our blog to follow Natalie and Sandrine on Travello's Ultimate Aussie Adventure…
Thanks to this week's featured prize partners:
Tom is from country Victoria and currently living in Sydney. He recently returned from a trip to Utah in the US. Tom is a great photographer, videographer and drone operator, so he's looking forward to capturing some amazing footage for your all t o share across your socials as well. Make sure you check out some of his footage he shot from Kokoda and PNG for taste of whats to come!
Natalie is from the USA but has recently moved to Melbourne! She is a former TV news reporter in the US so she is certainly comfortable in front of the camera telling her stories about the adventures with you all. She is also an avid video producer and videographer as well, so you can expect some interesting edited videos from Natalie at some point a long the journey when they get a break!
THANKS AGAIN TO OUR MAJOR COMPETITION PARTNERS!
This error message is only visible to WordPress admins
Error: There is no connected account for the user 1472068088 Feed will not update.