TOM & NATALIE'S ULTIMATE AUSSIE ADVENTURE
WEEK 1: TROPICAL NTH QUEENSLAND
Follow Tom & Natalie's Adventure across Travello and our Instagram Stories
INTRODUCTION:
The two winners of the Travello contest, Natalie & Tom, have an amazing journey ahead of them in Australia. They started off, on Friday the 19th of October, when they met up in Cairns, in Queensland. So how did it go when two complete strangers met up to embark on an epic adventure, and at the same time sleep in the same car?
However, the day before they flew out to meet up in person for the first time they were actually interviewed on LIVE national television on Australia's leading morning show The Today Show. Watch the full interview below, it is pretty funny.
So here's an update on what they have been up to on their first week:
Overview map of where and what Tom & Natalie got up to this week!
WEEKLY SUMMARY:
ROAD DISTANCE TRAVELLED: 725 kms
TRANSPORT
Plane, Jucy Van, Boats, Hot Air Balloon
STAYS
Jucy Van, Safari Lodge, YHA Cairns, YHA Mission Beach, Bungalow Bay YHA Koala Village
ACTIVITIES
Barrier Reef trips, Daintree Tour, Cape Tribulation Tour, Hot Air Ballooning, White Water Rafting, Koala Cuddles
LOCATIONS
Cairns, Cape Tribulation, Daintree, Great Barrier Reef, Port Douglas, Atherton Tablelands, Mission Beach, Magnetic Island, Townsville
WEEK 1: TROPICAL NORTH QUEENSLAND
Cairns
After finally meeting each other on the day of their arrival in Cairns, both Natalie and Tom could quickly tell that they would get along just fine (which would then save them from some awkward 47 days together). Before starting their journey, Kate from Tourism Tropical North Queensland gave them a rundown of their destination, Cape Tribulation, and what to see and do there. She also explained that that Cape Tribulation is the only place in the world where you can experience two world heritage sites meeting, the two world heritage sites being the Wet Tropics Rainforest and the Great Barrier Reef.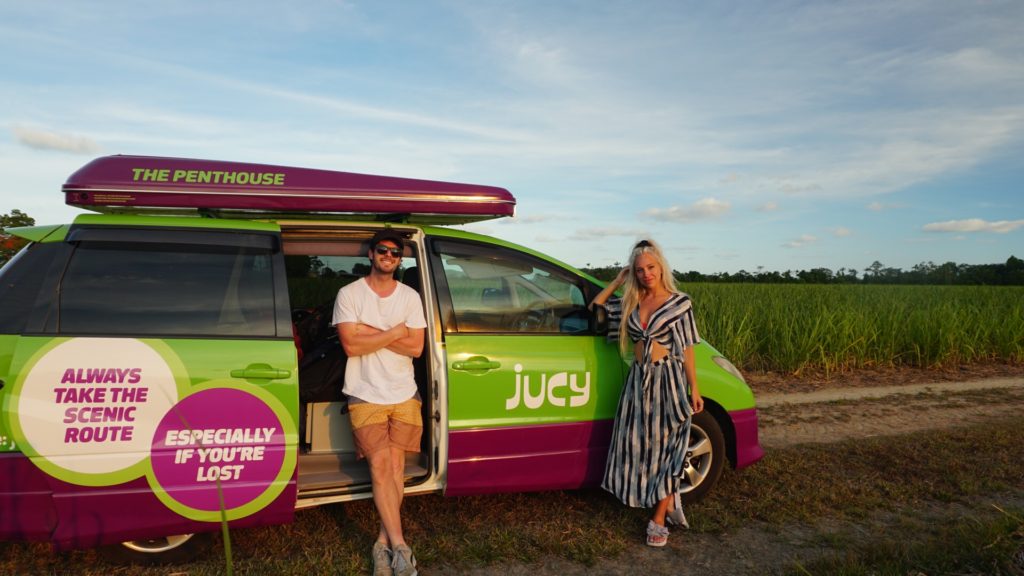 Jucy gave them the keys for their new home for the next weeks – a Jucy van Champ. This is a fully equipped van that comes with a small kitchen sink, fridge, gas cooker, a bed inside the car and on top of the roof, in a pop-up tent. With the Jucy van packed and ready, Natalie and Tom drove a bit further up north before they crossed a river with a ferry to reach Cape Tribulation. Here, they tucked in for the night at the Safari Lodge campground, in their Jucy van pop-up tent.
Cape Tribulation
[Best_Wordpress_Gallery id="14″ gal_title="Day 2 – Cape Tribulation"]
After some tips of what to see and do from the guys at Ocean Safari, Natalie and Tom explored Cape Tribulation and its beautiful beaches. Cape Tribulation is a headland within the Daintree National Park, which is famous for its remote and stunning beaches. Tom found a waterhole where he enjoyed a rope swing into the water, whilst Natalie explored the rainforest further as she found a colorful cassowary to follow. The cassowary is the third-tallest bird in the world and can be quite dangerous if provoked, but Natalie managed to keep herself safe whilst taking in the sight. After enjoying the beaches and the tropical rainforest, they spent the second night at the Safari Lodge campground.
The Great Barrier Reef
[Best_Wordpress_Gallery id="4″ gal_title="Day 3″]
Natalie and Tom got to see the magnificent Great Barrier Reef, which is the world's largest coral reef. It can even be seen from space! The tour was organised by Reef Magic Cruises, who took them out to explore the outer reef. They went snorkelling and managed to get up and close with colourful fish and sea turtles.
The next stop on their itinerary was Port Douglas. They got to explore the town, and Tom introduced Nat to a very Australian activity – cane toad racing! These races are organised at several bars, and you can take part in it by placing your bet on a toad. The toads are placed in the middle of a dance floor, and the first toad that leaves the dance floor is the winner. They say that if you kiss the toad it brings luck!
Daintree Rainforest
[Best_Wordpress_Gallery id="6″ gal_title="Day 4 – Daintree"]
Natalie and Tom got to explore the Daintree Rainforest with the tour company Daintree Tours (with Raging Thunder). The Daintree Rainforest is part of the Wet Tropics Rainforest, which is the oldest surviving rainforest in the world. After venturing through the rainforest they were taken to a beach to enjoy some morning tea, before continuing on a crocodile cruise where they spotted a crocodile on the riverbank. They ended the trip with a stop at the Mossman Gorge where they enjoyed a dip in the cool water. Back in Port Douglas they checked out the boutiques, bars and restaurants before going to bed in their Jucy van pop-up tent.
Atherton Tablelands/ Mission Beach
[Best_Wordpress_Gallery id="8″ gal_title="Day 5 – Hot air balloon/Mission Beach"]
Natalie and Tom woke up early for their hot air balloon tour with Raging Thunder, which started at 4 am., but the early wake-up call was worth it as they got to experience a beautiful sunrise from above. They flew over the Mareeba Valley on the Atherton Tablelands, which is in an area of Australia that has over 300 sunny days per year. They even spotted some wild kangaroos jumping across the valley below them! After the scenic flight, that lasted for about 30 minutes, they enjoyed a champagne breakfast back on the ground, which is included in the tour. After the tour they drove to Mission Beach where they set up camp for the night on YHA's campground.
Tully River/ Mission Beach
[Best_Wordpress_Gallery id="10″ gal_title="Day 6 – Rafting/Mission Beach"]
Another action-packed day for Natalie and Tom as they embarked on a white-water rafting tour with Raging Thunder on the Tully River. The river is considered one of the best rafting spots in Australia, and has grade 3-4 level rapids, that go through the World Heritage Rainforest – a truly unique way to experience the Rainforest. After getting soaked and experiencing the exhilarating rapids, Natalie and Tom enjoyed a BBQ lunch with the group, which is also included in the tour. The night was spent in the Jucy van on YHA's campground, along the beautiful Mission Beach.
Magnetic Island
[Best_Wordpress_Gallery id="12″ gal_title="Day 7 – Magnetic Island"]
Natalie and Tom drove their Jucy Van 240 km. to reach the Breakwater Marina in Townsville, from where the ferry goes to Magnetic Island. Magnetic Island is a World Heritage site, that is located on the Great Barrier Reef, and is known for its granite boulders all over the island. Natalie and Tom spent their afternoon exploring the island, feeding some rock wallabies they found among the boulders, and snorkeling by shipwrecks (a popular tourist attraction). They checked into the YHA Bungalow Bay Koala, which is the only resort in Australia with its own wildlife park. At the park guests get to hold koalas and see wombats up close – the perfect Australian experience!
Stay tuned on our blog to follow Natalie and Tom on Travello's Ultimate Aussie Adventure…
Thanks to this week's featured prize partners:
Tom is from country Victoria and currently living in Sydney. He recently returned from a trip to Utah in the US. Tom is a great photographer, videographer and drone operator, so he's looking forward to capturing some amazing footage for your all t o share across your socials as well. Make sure you check out some of his footage he shot from Kokoda and PNG for taste of whats to come!
Natalie is from the USA but has recently moved to Melbourne! She is a former TV news reporter in the US so she is certainly comfortable in front of the camera telling her stories about the adventures with you all. She is also an avid video producer and videographer as well, so you can expect some interesting edited videos from Natalie at some point a long the journey when they get a break!
THANKS AGAIN TO OUR MAJOR COMPETITION PARTNERS!
This error message is only visible to WordPress admins
Error: There is no connected account for the user 1472068088 Feed will not update.