Some of us are not super organised or planned our trips when we decide to pack our bags and head to a new country, but if you are lucky and meet really cool people on the way you could definitely end up doing the trip of your life. I decided to travel for a year around Asia with no agenda or plan except visiting China, Japan and Thailand. After a month in China I decided to head to the next country and made Bangkok my next stop.
I arrived to that huge and hectic place with only my hostel booked and no idea what was I going to encounter in this new city, luckily I ended up in a super cool hostel called "Siamaze" – not located in the heart of the city and is a bit far away from the heart of Bangkok but the services, facilities, staff and owner are superb-.
On my first night I met an Spanish traveller that spent the last 6 years travelling around Asia and knew the area from top to bottom, how lucky was I to meet such a traveller when I had no idea where to go next. He sat down with me for two days and with a map in hand he draw me the best route around South East Asia according to him, so I could visit the best spots and don't miss out anything.
While I was following his route I decided to write down some tips and recommendations for other travellers around the world, so here is the first part of my trip.
I left Bangkok from Morchit bus station and head to the first place pointed in the map.
Sukhothai Historical Park
Sukhothai: Some people miss this little town that is around 7 hours and a half away from the capital, but is definitely worth stopping there. A ticket for this journey varies depending on the class and time you choose, but the range is between 13-20 AUD or 250-350 Bahts (local coin). There are 2 Historical Parks to visit in the area:
Sukhothai Historical Park is the closest one from the city and has various Buddhism and Hinduism monuments. You can get there taking a local bus. The admission fee is 100 Baht and you can visit the place by hiring a push-bike for the day or walk around the park. definitely a place to visit if you like ruins and sightseeing. Don'w worry if you forgot to buy some food or water before getting there, if you are hungry or thirsty you can buy what you need with the locals around the area.
Satchnalai Historical Park is a bit far away from the town and you will need to take a bus from the main station (ticket is around 50 Baht), and it takes about an hour and a half to get there. The admission fee to the park is 20 Baht. This park is bigger and would highly recommend hiring a push-bike to move around. You can also find food and drinks in the area if you need. The park is really big, so take a lot of water and some snacks if you can, there is more than enough space to have a small picnic around the area and if you are cycling you could see the rise feels and charm of the country side lifestyle.
You only need two full days to visit this lovely place and then you can head to your next destination.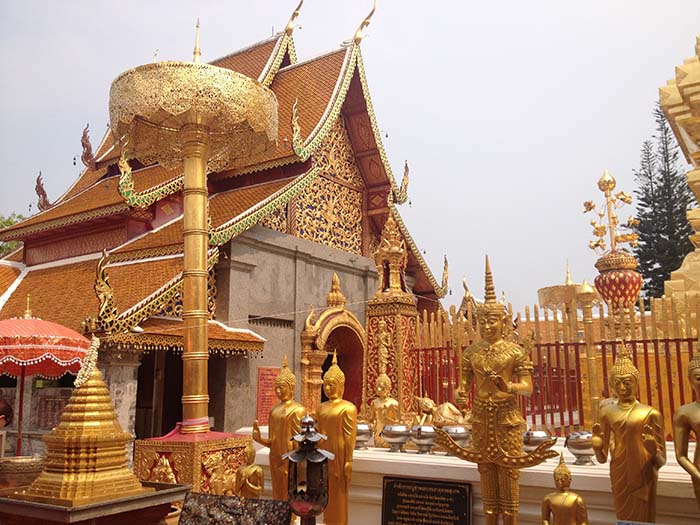 Wat Phra That Doi Suthep Temple
Chiang Mai: A place well know for its party life, animal shows and temples. The best way to move around the city is with a moped (scooter). Mopeds are a great way to get around no matter what country you're in, and you could look for a moped insurance quote if you are interested in getting one of your own. The price to rent one does not change too much from one place to the other, the price per day including insurance is between 7-10 AUD (200-250 Baht).
Recommed:
Wat Phra That Doi Suthep Temple (Temple in the Mountain). The admission fee is 30 Baht. This is a really nice temple to visit, there is a lot to see. If you like meditation and looking for a place to do a retreat, this place offers this service to locals and foreigners.
Dinner at Night street markets. Look for the different night markets this city offers, they have food, handcrafts, drinks and much more to offer the visitors. The night markets are huge and you could spent hours shopping or looking around. Don't leave Chiang Mai without spending a couple of hours enjoying the diversity and charm of the night markets.
The Elephant Jungle Sanctuary is an ethical and ecotourism park where you can spend time with this animals. They offer half day or full day visits to this place, the price for a half day visit is 65 AUD (1700 Baht) or 90 AUD (2400 Baht) for a full-day visit. Here the elephants are free and you have the opportunity to interact, bathe and see this animals in a safe and friendly environment.
Probably spend 3 nights in here to enjoy the nightlife this town offers, there are several bars and nightclubs to visit around the city centre. Great stop after the night markets.
Pai
Pai: Another hidden gem, this secluded town in the middle of the forest should definitely be on your list. It is about 3 hours away from Chiang Mai and you can get there by mini-bus (just ask the staff at your hostel for a shuttle service). The road is a bit dodgy in certain parts, so just be patient and enjoy the ride.
Around the area there are several waterfalls to visit and the town offers a very relaxed and chilled vibe. Great place to rest after enjoying the hectic nightlife in Chiang Mai. There are some nice restaurants and bars in the centre, and if you still wanna dance a bit more, don't worry because Pai has a great nightlife to offer.
Several hostels in the area have a swimming pool in their facilities, so you can spend a couple of days chilling by the pool and meeting other travellers like you.
After 2 or 3 days in there you are more than ready to head to your next stop.
Church, White Temple
Chiang Rai: You need to visit the Wat Rong Khun Temple (White Temple), is definitely a place to ad to your to-do-list. If you don't want to spend a lot of time there, you can always get a day trip from Chinag Mai and enjoy the beauty of the temple.
One day is more than enough in here and then time to head to LAOS. Ask the staff at your hostel or hotel if you can hire the slow boat service to Laos with them, I heard many dodgy stories about people doing the trip on their own because it is cheaper, but from what most people experienced is really not worth it.
The price of the trip with an agency or hotel is around 65 AUD (both offer almost the same price). They pick you up from your hotel at 6.00am, take you to Chiang Kong by mini-bus (2 hour trip) and then you cross the border to Laos. You have to go through immigration by yourself (visa on-arrival), but once you crossed they take you to Huay Xai by mini-bus and your trip in Laos begins.
See you on my next article with more tips and recommendations for the other countries in South East Asia.
High vibes.
Don´t forget to download Travello app before you start your next journey and meet other travellers around the world. A social network for travellers being used by thousands in over 170 countries! See what all the hype is about! Download Travello on iPhone & Android
Samia Salamanca
Mobile: +61 416 428 580
Facebook: https://www.facebook.com/samia.salamanca
LinkedIn: https://au.linkedin.com/in/samiasalamanca